Ovulation Chart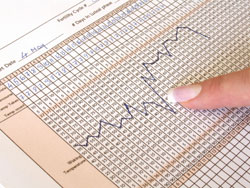 Do you and you husband have hard time getting pregnant? Have you tried all the possible methods, none of which worked?
We suggest you use ovulation chart to predict pregnancy. This old yet effective method can also be used to predict the gender of your future child.
To get to know when your fertile times are, you should keep a calendar. Of course, you can use the good old paper calendar, but we strongly recommend that you download specialized software.


With the ovulation calendar you can get pregnant faster. Simply download the program, install it and enter the days of your menstrual cycle in the ovulation chart. All the calculations will be automatically completed by the application. This ovulation chart will even clearly indicate the days that are most suitable for conceiving a baby boy and a baby girl.
Other tasks you can easily perform with SoftOrbits ovulation chart include:
keep daily notes
print your ovulation chart
receive alerts about the fertile days
track premenstrual tension (PMT) and much more.
Simply download the FREE trial version of Ovulation Calendar certified by Softpedia now! The application is guaranteed to be safe and clean of viruses, spyware or malicious ware. Use the trial period to evaluate the quality of the ovulation chart and decide whether it is worth its money.